Custom sizes to fit ZooZones, Vivariums, Critter Nation, C&C, Hutch, Ferplast, etc. 
These custom fleece liners are made to fit the set up that you have, the liners are a popular choice being soft absorbent fleece, 'little feet' safe and machine washable. There are three types of liners:
Double fleece liner - standard liner with two fleece layers
Triple fleece liner - three layers of fleece adding an extra layer of absorbency
Padded fleece liner - two layers of fleece with padding in the middle for added softness and warmth
To select the correct size for your liner, the total area needs to be calculated. Measure the inside length and width of your enclosure and calculate the area with the below formula:
Formula: Length x Width = Total Area Squared
Centimeters example: 118cm x 48cm = 5664cm2 (this will be liner size D)
Inches example: 45in x 20in = 900in2 (this will be liner size D)
📏 If you are unsure on calculating the area here is a handy area calculator: https://www.calculator.net/area-calculator.html
Size
Area in centimetres
Area in inches
AA
Under 2499cm2
Under 388in2
A
2500

cm

2 - 3399

cm

2
389

in

2 - 527

in

2
B
3400

cm

2 - 4399

cm

2
528

in

2 - 682

in

2
C
4400

cm

2 - 5399

cm

2
683

in

2 - 837

in

2
D
5400

cm

2 - 6399

cm

2
838

in

2 - 992

in

2
E
6400

cm

2 - 7399

cm

2
993

in

2 - 1147

in

2
F
7400

cm

2 - 8399

cm

2
1148

in

2 - 1302

in

2
G
8400

cm

2 - 9999

cm

2
1303

in

2 - 1550

in

2
H
10000

cm

2 - 12399

cm

2
1551

in

2 - 1922

in

2
I
12400

cm

2 - 14899

cm

2
1923

in

2 - 2309

in

2
J
14900

cm

2 - 16800

cm

2
2310

in

2 - 2604

in

2
 ⭐⭐ Steps to follow to order the correct liner: please select the style of liner (double liner/padded liner/triple liner) you'd like, then select the liner size (size AA - J) from the drop down menu that fits your area and add the measurements in the note box. I need the length and width that was measured when selecting the size. If you are unsure please email info@thehoghouse.co.uk ⭐⭐
All liners are made seamless however, the longest length that can be made seamless is 150cm/59". Anything longer will have a seam that is reinforced.
If you are ordering a liner prior to your enclosure arriving please note that the dimensions given by the manufacturer are for the largest external points of the cage and not necessarily the internal floor where the liner covers.
Liners can be made to allow for stairs or a built in housing however, please message me prior (sending a pic/diagram would also be helpful if possible). I would prefer to give you a definite answer and for you to have assurance that it can be made to your specific set up before ordering. Examples of cut out liners made can be found here: http://bit.ly/cliners
Have any questions? Ask away!
⭐ Please see returns policy on custom orders, as this is a custom order no returns are accepted unless there is a default.   
✂️ SAFETY: All products are little feet safe; they have been made with hidden seams to ensure that there are no loose threads or edges that could catch little toes. All items are made in a smoke free environment shared with a few hedgehogs.
🧺 CARE: Easily washed at 30'C/86'F on a short or hand wash cycle. It is best to shape the item back into its original shape after washing and allow to air dry. Do not tumble dry. For the safety of your little one please check for wear and tear.
⏳ TURNAROUND TIME: Items are made to order; I do my very best to make orders ASAP but the hogs distract me a lot! 
Customer Reviews
31 May 2023
Sheridan M.

United Kingdom
I recommend this product
Spectacular
Absaloutely love this website, everything you need for your wee hog, it's amazing someone can consider them just as much as I do.
15 Aug 2022
Anonymous

United Kingdom
I recommend this product
Fleece Liners
Amazing, customer service was absolutely brilliant and the liners were fantastic quality.
22 May 2022
Xena C.

United Kingdom
I recommend this product
Custom pink fleece
My experience was fabulous as always. I wasn't too sure on the measurements, so sent a quick question in, and got a response immediately. When they arrived I changed hyacinths bed and she instantly started running around! The quality is amazing, and the customer service is top notch. I only get my hedgehog stuff from hog house, and I will continue to do so!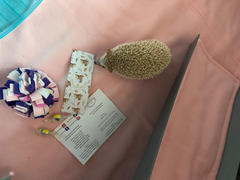 23 Mar 2021
Anonymous

United Kingdom
15 Jan 2021
Sasha W.

United Kingdom
I recommend this product
Perfect!
This is my first experience buying custom liners and I could not be more pleased with the quality of this item. The ordering process was so easy and before I knew it my hedgie has a custom sized fleece liner!