Strips of fleece for hedgehogs, rats, guinea pigs and other small pets to play, hide, burrow and sleep in. These strips are great for creating a nesting environment as they are environmentally friendly, washable, warm, dust free and the fleece does not unravel.
Bundle Sizes:
1 Bundle - 60g enough for a forage tray (as seen in first picture)
2 Bundles - 120g enough for a forage tray and extra for bedding (or a really big forage tray!)
3 Bundles - 180g enough for a forage party!
4 Bundles - 240g go wild!!!
The lengths of the strips vary however the width is cut between 1.5cm - 2cm wide. No small bits are included, only usable strips.
✂️ SAFETY: All products are little feet safe; they have been made with hidden seams to ensure that there are no loose threads or edges that could catch little toes. All items are made in a smoke free environment shared with a few hedgehogs. The strips are reusable, simply place them in a delicates laundry bag (or use a pillow case knotted at the end to keep the strips in). Place in the wash as normal and scatter them over a surface to dry. Do not tumble dry.
🧺 CARE: Easily washed at 30'C/86'F on a short or hand wash cycle. It is best to shape the item back into its original shape after washing and allow to air dry. Do not tumble dry. For the safety of your little one please check for wear and tear.
⏳ TURNAROUND TIME: Items are made to order; I do my very best to make orders ASAP but the hogs distract me a lot! 
Customer Reviews
Great
My hedgehog loves to dig through these and sleep in them, I've put them in one of her hides and she loves it
MW
12 Mar 2021
Melissa W.

United Kingdom
My hogs always adore The Hoghouse products!
As with all the orders I've previously made to The Hoghouse (somewhere between 15-20), this order didn't disappoint being of excellent quality, perfectly packaged and received very promptly. Thank you Claire (and spike staff) for continuing to make such wonderful items. The fleece strips are always put to good use by my girls!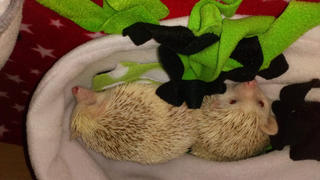 13 Feb 2021
Lorraine S.

United Kingdom
Harry
Very good service ,Will be using again
03 Feb 2021
Anonymous

United Kingdom
Great quality products
The items purchased were great. The quality and stitching was perfect for our little hog. Service was great, and small touches such as the little note in the package are a great sign of a lovely business owner who cares. Thanks, will buy from you again
26 Jan 2021
Theresa H.

United Kingdom
Brilliant forage strips
Brilliant really pleased with product and delivery